---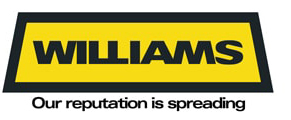 Spider Deluxe
---
75/250G, 75/250S, 75/300G, 75/300S
All New Specs for the Deluxe!!
We have just done some new mods to the Deluxe Spider, we made some changes to achieve low application depth, to do this we have speed up the ground speed and also changed the arm angles to get the depths more even and down as low as 5mm application depth. We also have added a quick simple speed change with 4 different speeds.

The Williams Spider Deluxe Irrigator is designed to operate with a 2800 rpm 7.5hp - 15hp effluent pump which suits most average sized farms. The Deluxe is a proven travelling irrigator with 1000+ worldwide. Available in a choice of Stainless Steel or Galvanised wire rope and options in lengths of 250 or 300 metres.
KEY FEATURES
Simple trouble free design
Rewind handle
Double lipped neoprene seals
Quick action pawls
Hardened steel wire guide
4 travel speeds
Total enclosed main bearings
Stainless steel spindle
Low centre of gravity
Light but strong
Totally hot-dipped galvanized
Suitable for irrigation
Towing hitch
Operates with lay flat and hard hoses
Progressive cam for low power requirement for travelling
Supplied with the camlock fitting for supply hose
For full specifications download/view our brochure below
---