Irrigators
---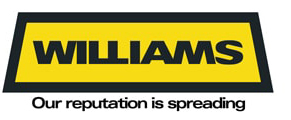 Deluxe Junior
---
The Williams Deluxe Junior Irrigator a shorter armed version of the SpiderDeluxe. This irrigator is specifically designed for smaller sized farms withlower powered pumps (5.0-7.5hp).
If at a later date a larger pump is installed, extensions can be bolted into the arms to convert your Deluxe Junior to a Spider Deluxe.
The Deluxe Junior comes standard with 200m of stainless steelwire.
KEY FEATURES:

Simple trouble freedesign
Rewind handle
Double lipped neopreneseals
Quick action pawls
Hardened steel wireguide
4 travel speeds
Total enclosed mainbearings
Stainless steel spindle
Low centre of gravity
Light but strong
Totally hot-dipped galvanized
Suitable for irrigation
Towing hitch
Operates with lay flatand hard hoses
Progressive cam for low power requirement for travelling
Supplied with the camlockfitting for supply hose
For full specifications download/view our brochure below
---